Prostate Supplements Reviewed
Prostalex Plus Lab Report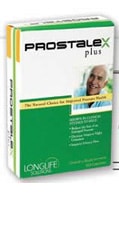 Laboratory Analysis
Product: Prostalex Plus
Company: Long Life Solutions
Rating: C
2.5/5 Stars

Rated 2.5/5 based on 261 customer reviews

$ 59.95 In stock

Sub Par Prostate Support Supplement. 60 Count Bottle. Claims to shrink an Enlarged Prostate. Did not Review Well
Company Site: www.prostalexplus.com
Prostalex Plus Prostate Support
Prostalex Plus Lab Report
| | | | | |
| --- | --- | --- | --- | --- |
| Analyte: | mg/g | mg/cap | mg/serving | mg/daily dose |
| Quercetin: | ND. | - | - | - |
| Icariin: | ND. | - | - | - |
| Total Flavonoids: | 95.2 | 85.5 | 171 | - |
| B Sitosterol: | 36.6 | 32.8 | 65.7 | - |
| Total Phytosterols: | 88.0 | 79.0 | 158 | - |
| Free Fatty Acids: | 175 | 157 | 314 | - |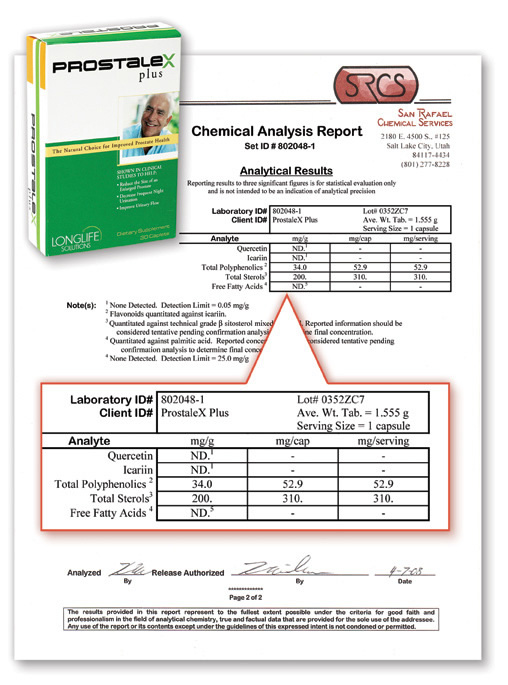 Grade C
Prostalex Plus gets high marks for beta sitosterol, but this prostate supplement is a one-trick-pony with the other tests, falling drastically short.
Prostalex Plus Analysis:
Prostalex Plus gets high marks for the 310mg of beta-sitosterol. While this is an excellent score, the lab results indicate that Prostalex Plus is essentially one-dimensional. With zero free fatty acids, quercetin and icariin, the rest of the formula needs to be beefed-up. We gave Prostalex Plus a grade C.
Prostalex Plus is available direct from the manufacturer at www.prostalexplus.com.