Prostate Supplements Reviewed
Prost 8 Review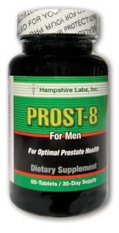 Product Review
Product: Prost 8
Company: Hampshire Labs
Rating: F
1/5 Stars

Rated 1/5 based on 119 customer reviews

$ 59.95 In stock

Sub Par Prostate Support Supplement. 60 Count Bottle. Claims to shrink an Enlarged Prostate. Did not Review Well
Company Site: www.hampshirelabs.com
Prost 8 Prostate Support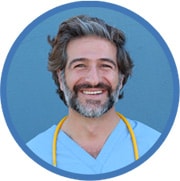 by:
Kennith Rassman
June 23, 2017
1 / 5 stars
Prost 8 Review
From Hampshire Labs, the Minneapolis based company that specializes in direct mail letters that promise the moon –but deliver poor products. They also make the do-nothing products Prostend and Antiiva. Prost-8 touts itself as the number one product in the world for "optimum prostate health". Strange, since it contains ZERO saw palmetto and ZERO Pygeum, the two absolutely essential compounds for men's prostate health. Outlandish claims and a subpar product is not the combination you are looking for. Laboratory analysis confirms that a purchase of Prost-8 would be a waste of your money. Prost-8 is available at www.hampshirelabs.com or by calling 1-800-279-5517.
Prost 8 Basics
This all-natural prostate health supplement from Hampshire Laboratories claims to eliminate prostate problems with its eight core ingredients, including beta-sitosterol, zinc citrate and several inflammation-fighting sterols. They call these ingredients their "8 secret weapons", specially formulated to target the prostate gland. But how? According to Prost-8, it supposedly improves urinary and sexual problems within weeks by reducing the size of the prostate—a leading cause of most prostate and urinary problems, including benign prostatic hypertrophy (BPH).
Prost 8 Ingredients:
Prost-8 contains a multivitamin complex of extracted beta-sitosterols, campesterols, stigmasterols and brassicasterols. It also contains zinc citrate and pumpkin seed oil. Prost-8 promises these are the best ingredients for improving your prostate health fast, without the risk of additional side effects.
Does Prost 8 Work?
Probably Not. Prost-8 is missing one key ingredient that makes these sterols useful: Saw Palmetto. Saw Palmetto is the driving force that allows these sterols to reduce prostate inflammation in the first place. If that's not enough to surprise you, this will—extracted beto-sitosterol also increases a man's risk for erectile dysfunction (ED) and poor libido. Prost-8 may actually cause sexual problems instead of curing it, something most men don't need.
There is also no reputable evidence available that states pumpkin seed oil may improve prostate health. There's plenty of evidence from health companies trying to sell pumpkin seed oil, though, including WHFoods.org—they claim it treats BPH but doesn't explain why (or how). The lack of evidence suggests Prost-8 probably isn't telling the whole truth about their supplement.
Is Prost 8 Safe?
No. Extracted beto-sitosterol may increase a man's risk for ED or lowered libido, impairing numerous sexual functions. Other studies also show beto-sitosterol causes nausea, diarrhea and constipation.
Grade: F
They're certainly not running short on sterols, but it's useless if you don't pair it with Saw Palmetto, which enables it to shrink the prostate. Other ingredients may also worsen sexual dysfunction, doing the opposite of what Prost-8 claims it can cure. Prost-8 earns an F from us for not containing ineffective and potentially dangerous ingredients.