Prostate Supplements Reviewed
Prost RX Lab Report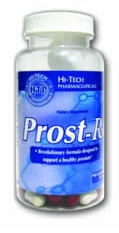 Lab Report
Product: Prost RX
Company: Hi Tech Pharma
Rating: A-
4/5 Stars

Rated 4.5/5 based on 341 customer reviews

$ 39.95 In stock

Prostate Support Supplement. 60 Count Bottle. Shrinks Enlarged Prostate. Ships Usually Same Day. Safe & Effective Natural BPH remedy. Thousands of Satisfied Customers.
Company Site: www.hitechpharma.com
Contact: 1 888-855-7919
Prost RX Prostate Support
| | | | |
| --- | --- | --- | --- |
| Analyte: | mg/g | mg/cap | mg/serving |
| Analyte: | mg/g | mg/cap | mg/serving |
| Quercetin: | ND. | - | - |
| Icariin: | 0.547 | 0.228 | 0.456 |
| Total Polyphenolics: | 43.0 | 17.9 | 35.9 |
| Total Sterols: | 80.0 | 33.0 | 66.0 |
| Free Fatty Acids: | 800 | 334 | 667 |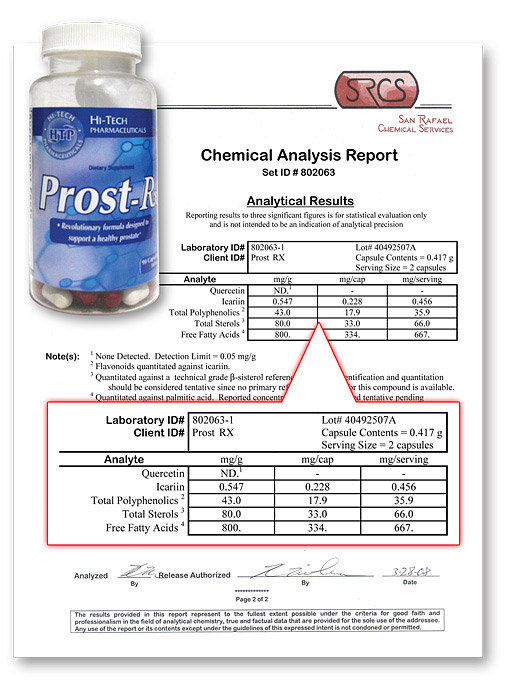 Grade A+
Prost-RX: good budget supplement!
Prost RX Analysis:
From the highly regarded Atlanta-based supplement manufacturer Hi-Tech Pharmaceuticals, comes this exceptional product. We have it rated the number 3 prostate supplement due to its exceptional formula and high level of ingredients. While many products are essentially one-dimensional (e.g., all saw palmetto or all beta-sitosterol) Prost-Rx got high marks across the board. Only a few steps behind Prostavar and Vasotrexx, it is clearly the best of the rest. Many survey sheets remarked how well Prost-Rx has worked and how it is more effective than Flomax and Avodart. Super product developed by master nutraceutical formulator Jared Wheat.
Prost RX is available at www.hitechpharma.com or by calling 1-888-855-7919.