Prostate Supplements Reviewed
Royal Forte Prostate Lab Report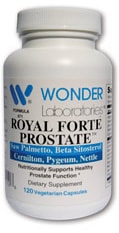 Laboratory Analysis
Product: Royal Forte Prostate
Company: Wonder Labs
Rating: C
2.5/5 Stars

Rated 2.5/5 based on 231 customer reviews

$ 59.95 In stock

Sub Par Prostate Support Supplement. 60 Count Bottle. Claims to shrink an Enlarged Prostate. Did not Review Well
Company Site: www.wonderlabs.com
Royal Forte Prostate Prostate Support
Royal Forte Prostate Lab Report
| | | | | |
| --- | --- | --- | --- | --- |
| Analyte: | mg/g | mg/cap | mg/serving | mg/daily dose |
| Quercetin: | - | - | - | - |
| Icariin: | ND. | - | - | - |
| Total Flavonoids: | 19.9 | 13.1 | 26.2 | - |
| B-Sisterol: | 63.9 | 42.1 | 84.2 | - |
| Total Phytosterols: | 135 | 89.1 | 178 | - |
| Free Fatty Acids: | 31.1 | 20.5 | 40.9 | - |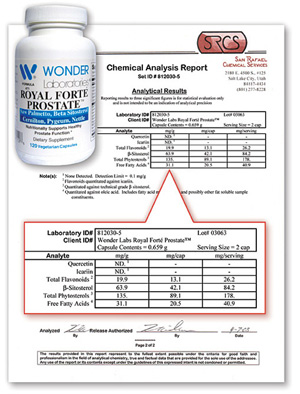 Grade C
Royal Forte Prostate has more downsides than upsides, and substitutes cheap ingredients instead of high quality extracts.
Royal Forte Prostate Analysis:
This prostate supplement finished in the middle of the pack because of its formulation. Developed by Wonder Laboratories of White House, TN, this supplement does not contain the highest grade ingredients. Example: the saw palmetto extract yields between 44% to 55% beta sitosterol. Compare that with the 85% you find in better prostate supplements. The pygeum used is a powdered bark, NOT an extract. However, it does have nice levels of vitamins D3 and E as well as zinc and copper. A one-month supply is under $50. But at the end of the day this prostate supplement is only average.
Royal Forte Prostate is available at www.wonderlabs.com or by calling 1-800-992-1672.