Prostate Supplements Reviewed
Super Beta Prostate Review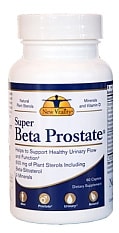 Product Review
Product: Super Beta Prostate
Company: New Vitality
Rating: B
3.5/5 Stars

Rated 3.5/5 based on 234 customer reviews

$ 59.95 In stock

Sub Par Prostate Support Supplement. 60 Count Bottle. Claims to shrink an Enlarged Prostate. Did not Review Well
Company Site: www.newvitality.com
Super Beta Prostate Prostate Support
Super Beta Prostate Class Action Lawsuit
Update- Super Beta Prostate
Super Beta Prostate was the most heavily advertised and most well known prostate products available. At one point it made it to our prestigious Top 5, finishing at number 4. Now consumers are up in arms over and have filed a class action lawsuit against New Vitality Corp and Hall of Fame NFL Quarterback Joe Theisman. So, what has consumers so fired up?? If you have seen any of Super Beta's television commercials, I am sure you were quite impressed with the statements from "Jeff Zielinski, MD". I mean, having a real doctor go on TV and endorse your product says a lot about the product. This scene might look familiar: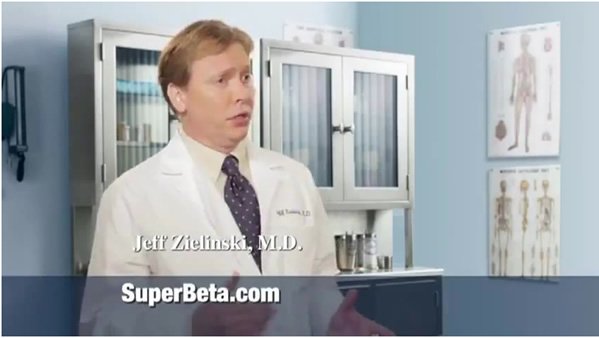 Super Beta Prostate Fake Doctor
BUT what happens when that "doctor" turns out to not be a doctor at all but a paid actor? Consumers get upset and rightfully so. Take a look at these excerpts from the official court documents:
"Jeffrey J. Zielinski, the doctor who appears to endorse Super Beta Prostate in Defendants' commercials, has recanted. In a sworn declaration provided to the undersigned counsel, he states that he is an actor, and that he has not practiced medicine since 2009. After an audition in which he was provided with no information about the product, he was called to a commercial shoot and asked to don a white doctor's coat, stand in front of a green screen, and read lines from a teleprompter."
In his sworn declaration provided to the undersigned counsel, Dr. Zielinski states:
"I was provided with a white doctor's coat with my name on it. After donning the white coat I was directed to stand in front of a green screen and to read lines from a teleprompter. After I saw the commercials air on television, I understood that a doctor's office was superimposed on the green screen to create the illusion that I was speaking from a doctor's office. ...
"As far as I understood, I was hired as an actor. I was to play the role of a doctor, reading lines from a script. And that is what I did. I had no input in the creation of the script or the content of the advertisements. I did not intend to provide medical advice to anyone, or to provide a medical endorsement of the product."
Dr. Zielinski continues:
If I were a practicing physician, I would not recommend Super Beta Prostate for the treatment of BPH or its symptoms. ... I would not recommend Super Beta Prostate to anyone for any purpose. I believe it is unsuitable for the treatment of BPH, and possibly unsafe because it is a formulation that has never been studied and it includes mixed sterols in very high doses that could cause significant adverse events."
If That Isn't Damning Enough... The court documents go on to state:
The product was created by Roger Mason, a convicted felon who pleaded guilty to conspiracy to distribute phencyclidine (PCP). Defendant New Vitality describes Mr. Mason as a "research chemist." His latest concoction, "Super Beta Prostate," is an illegal drug that contains dangerously high doses of mixed sterols, including B-sitosterol, a drug that had been marketed in Europe under the trade names Harzol® and Azuprostat®. These compounds are no longer considered suitable for the treatment of BPH. Indeed, in 1995, a researcher studying Harzol® wrote: "
The effect of phytopharmaceuticals [such as B-sitosterol] on BPH is controversial because no clear mechanisms of action have been established, and their effect has been attributed to placebo responses. ... Since other forms of medical treatment of BPH have been shown to be effective, it is questionable whether phytopharmeceutical drugs should continue to be prescribed." Like most class action lawsuits this one could be dragged on for a long time. We will continue to provide you with any information about this case as it progresses through the courts.
Our Thoughts
After reading through the court documents, there is no way that we can continue to recommend this prostate supplement. Luckily for you there are plenty of Prostate Supplements out there that are made by reputable companies and contain safe ingredients backed by clinical studies. Just take a look at our "Top 3 Pills" to your right under "Get Prostate Relief Now". You will see the highest rated prostate pills on the market.
If you would like to read the case in its entirety, you can view it here