Prostate Supplements Reviewed
Provalex Plus Review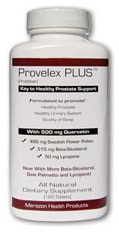 Product Review
Product: Provalex Plus
Company: Merazon Health
Rating: C
2.5/5 Stars

Rated 2.5/5 based on 121 customer reviews

$ 59.95 In stock

Sub Par Prostate Support Supplement. 60 Count Bottle. Claims to shrink an Enlarged Prostate. Did not Review Well
Company Site: www.provalex.com
Provalex Plus Prostate Support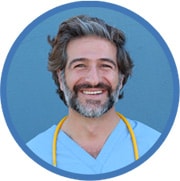 by:
Kennith Rassman
June 23, 2017
2.5 / 5 stars
Provalex Plus Review
The suggested daily dosage is to take 3 tablets twice a day – that's six pills a day. They give you 180 tablets and it appears to be a marketing gimmick. One sign, right off the bat, that this product will come up short is the 50mg's of Pygeum per three tablets are from a powder NOT an extract. It came as no surprise to us when the laboratory analysis revealed below average test scores. Manufactured by Merazon Health Products of Seattle, who received a serious FDA Citation in February 2005 from Office Director Joseph R. Baca for their product Immune Guard after making false claims about its ability to cure the common cold and flu. They were also the subject of an expose on Quackwatch an organization that monitors the natural health industry. Provelex Plus seems like another over-hyped product. Provelex Plus is available at www.provelex.com or by calling 1-800-680-0200.
Provalex Plus Basics
Numerous amino acids, extracts and vitamins make up Provelex's proprietary blend—but Provelex Plus claims the real benefits come from its sterol-rich base of beta-sitosterols, stigmasterols and campesterol. They claim sterols help improve the effects of Provelex Plus, improving urinary function, pressure on the bladder, and overall prostate health. But if you want to cash in on these benefits, be prepared to swallow up to six hard capsules per day—nearly twice as much compared to other prostate supplements.
Provalex Plus Ingredients:
Provelex contains nearly 700mg of Saw Palmetto Extract, boosted with helpful sterols such as beta-sitosterol, campesterol and stigmasterol. It also contains 400mg of Swedish flower pollen, which they claim improves the health of the prostate gland.
Does Provalex Plus Work?
It might—but don't count on it. Our lab tests revealed Provelex Plus really doesn't contain a sterol-rich base, earning low scores in the sterol detectability category. This nearly defeats the purpose of using Saw Palmetto in the first place—sterols are what makes it effective in the first place. This strongly suggests they used low quality or highly processed Saw Palmetto, which doesn't do you any good if you want to improve the health of your prostate.
But what about Swedish flower pollen, another ingredient they claim improves prostate health? It may reduce prostate-related inflammation and bladder obstruction, according to Life Extension Magazine. Cernitin, a supplement derived from flower pollen, was shown to reduce symptoms of an enlarged prostate by inhibiting the production of excess testosterone, a leading cause of prostate enlargement. The studies did not investigate the specific properties of Swedish flower pollen, but the results are promising.
Is Provalex Plus Safe?
Yes - if you don't have a pollen allergy. People with pollen allergies who are exposed to Provelex Plus may develop hay fever, which causes frequent sneezing, skin itchiness, watery eyes or fatigue. Untreated hay fever may also lead to sinusitis, better known as a sinus inflammation.
Grade: C
The ingredients in Provelex Plus are not high quality, limiting its ability to treat prostate inflammation, pain and enlargement. But there is some evidence that flower pollen may reduce non-life threatening prostate enlargement, providing quick and pain-free urinary relief. Overall, Provelex Plus earns a C- for not containing enough effective ingredients.