Prostate Supplements Reviewed
Comprehensive Prostate Formula Review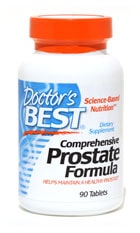 Product Review
Product: Comprehensive Prostate Formula
Company: Doctors Best
Rating: C
2.5/5 Stars

Rated 2.5/5 based on 51 customer reviews

$ 59.95 In stock

Sub Par Prostate Support Supplement. 60 Count Bottle. Claims to shrink an Enlarged Prostate. Did not Review Well
Company Site: N/A
Comprehensive Prostate Formula Prostate Support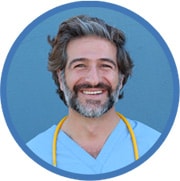 by:
Kennith Rassman
June 23, 2017
2.5 / 5 stars
Comprehensive Prostate Formula Review
Comprehensive Prostate Formula Basics: This all-natural dietary supplement claims to nutritionally support the prostate, although it won't specifically state how it works. Comprehensive Prostate Formula's key ingredient is selenium, a mineral rumored to treat benign prostatic hypertrophy (BPH), or a non-life threatening enlargement of the prostate. They recommend using the supplement three times a day, with or without food, to promote prostate function.
Comprehensive Prostate Formula Ingredients:
Comprehensive Prostate Formula contains vitamin D, vitamin E, vitamin B6, zinc, selenium, copper, saw palmetto extract, African pygeum extract, stinging nettle extract, lycopene, alanine, glutamic acid and glycine.
Does Comprehensive Prostate Formula Work?
It might, but don't count on it. The only ingredients in Comprehensive Prostate Formula proven to improve prostate function are saw palmetto extract and African pygeum extract, which makes up only around 40 percent of the entire formula. As reported on the National Institutes of Health's website, both saw palmetto and pygeum extract contain strong anti-BPH properties, and may decrease prostate size and urinary problems. It's currently being studied as a possible alternative treatment for BPH.
Comprehensive Prostate Formula's other ingredients have not been shown to affect prostate function, however. Although it may contain some effective properties, which may prevent the spread of prostate problems, it has not been shown to have any effect on the prostate's size or ability to function properly. Some ingredients may also increase the risk for prostate issues, including vitamin E and lycopene. Is it Safe?: Yes, aside from some mild side effects. Pygeum extract may cause mild to moderate stomach upset, vomiting and nausea. Vitamin E and lycopene can also increase a man's risk for prostate issues.
Grade: C
Although saw palmetto and pygeum extract can help reduce symptoms of BPH, a common prostate dysfunction, many of its other ingredients have not been proven to promote prostate function