Prostate Supplements Reviewed
Prostanol Lab Report
Laboratory Analysis
Product: Prostanol
Company: Vital Max Vitamins
Rating: B+
3.5/5 Stars

Rated 3.5/5 based on 121 customer reviews

$ 59.95 In stock

Sub Par Prostate Support Supplement. 60 Count Bottle. Claims to shrink an Enlarged Prostate. Did not Review Well
Company Site: www.vitalmaxvitamins.com
Prostanol Prostate Support
Prostanol Lab Report
| | | | | |
| --- | --- | --- | --- | --- |
| Analyte: | mg/g | mg/cap | mg/serving | mg/daily dose |
| Quercetin: | ND. | - | - | - |
| Icariin: | ND. | - | - | - |
| Total Flavonoids: | 95.2 | 85.5 | 171 | - |
| B Sisterol: | 36.6 | 32.8 | 65.7 | - |
| Total Phytosterols: | 88.0 | 79.0 | 158 | - |
| Free Fatty Acids: | 175 | 157 | 314 | - |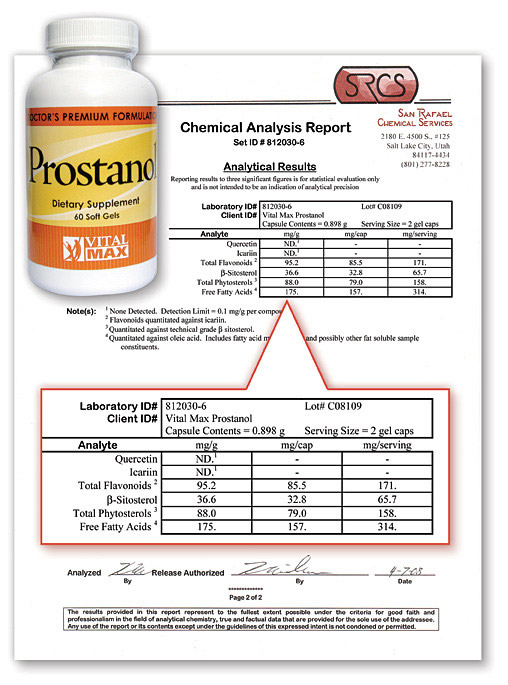 Grade B
Prostanol is an okay prostate supplement. If you only want average results, then this is for you.
Prostanol Analysis:
This fine "soft gel" prostate supplement from VitalMax Vitamins was designed by Dr. Al Sears, an advocate for the use of natural health products for men with prostate problems. Dr. Sears does an excellent job designing men's health supplements. Prostanol scored better than most of the products in lab reports. Uses an 85% extract of saw palmetto and had 20mg of beta sitosterol, and provides 266% of the RDA of Zinc. Surprised, though, that pygeum is not present in the formula. The proprietary phytosterol blend of campesterol, stigmasterol, brassicasterol and sitostanol is effective. The regular price for a one-month supply of this prostate pill is $57.45
Prostanol is available at www.vitalmaxvitamins.com or by calling. 1-800-815-5151.