Prostate Supplements Reviewed
Antiiva Lab Report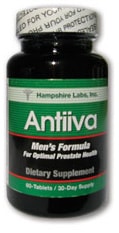 Laboratory Analysis
Product: Antiiva
Company: Hampshire Labs
Rating: F
1/5 Stars

Rated 58/5 based on 31 customer reviews

$ 59.95 In stock

Sub Par Prostate Support Supplement. 60 Count Bottle. Claims to shrink an Enlarged Prostate. Did not Review Well
Company Site: www.hampshire.com
Antiiva Prostate Support
| | | | |
| --- | --- | --- | --- |
| Analyte: | mg/g | mg/cap | mg/serving |
| Analyte: | mg/g | mg/cap | mg/serving |
| Quercetin: | ND. | - | - |
| Icariin: | ND. | - | - |
| Total Polyphenolics: | 9.56 | 10.9 | 21.9 |
| B-Sisterol: | 29.2 | 33.3 | 66.7 |
| Total Phytosterols: | 62.8 | 71.8 | 144 |
| Free Fatty Acids: | ND | - | - |
Grade F
Low levels of key ingredients make this Antiiva a loser.
Antiiva Analysis:
This is a classic example of a prostate supplement that is completely worthless and tarnishes the reputation of the entire natural health industry. Sold only through mail-orders by the same group of "weasels" who sell Prosta-8 and Prostend (see write-ups in their sections). They will try to trick you into believing this is a legitimate prostate product by using pseudo science, phony testimonials, and a "pharmaceutical-sounding" name like Antiiva. The lab reports expose this prostate "supplement" for what it is: a ripoff. If you were unfortunate enough to spend money on this you would not have seen any results. Total Scam. If you get a letter in the mail from these jokers, throw it in the trash! This product is a stain on the prostate supplement industry. Antiiva needs to up the ante.
Antiiva is available at www.hampshirelabs.com or by calling 1-800-279-5517.