Prostate Supplements Reviewed
Better Prostate Review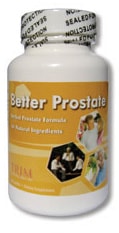 Product Review
Product: Better Prostate
Company: Trim International
Rating: B
3/5 Stars

Rated 3/5 based on 73 customer reviews

$ 59.95 In stock

Sub Par Prostate Support Supplement. 60 Count Bottle. Claims to shrink an Enlarged Prostate. Did not Review Well
Company Site: www.triminternational.com
Better Prostate Prostate Support Review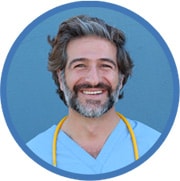 by:
Kennith Rassman
June 23, 2017
3 / 5 stars
Better Prostate Review
This 17-ingredient product contains very low levels of important compounds. It also contains an herb called "Butchers Broom" which has no scientific studies validating it as being beneficial for prostate health. The lone bright spot in the formula is the 85% to 95% free fatty acid content of the Saw Palmetto used. Unfortunately it only contains 50mg. Manufactured by Trim International, a company more known for making women's beauty supplements, than men's products. Average lab results, and a $69 a month price tag don't add up to a winner. Better Prostate is available at www.triminternational.com
Better Prostate Basics
This vegetarian-friendly product claims to prevent prostate enlargement and urinary tract infections through the power of all-natural herbs and minerals, including Saw Palmetto, ginseng, milk thistle and calcium. But these aren't the only benefits—Better Prostate also touts itself as an energy and cellular health supplement.
Better Prostate Ingredients:
Better Prostate's biggest ingredients include chromium, selenium, calcium, magnesium citrate, potassium, molybdenum and vanadyl sulfate. It also contains only 4mg of ginseng and 50mg of Saw Palmetto.
Does Better Prostate Work?
Maybe. Getting plenty of calcium, potassium and selenium every day is essential for maintaining total body health, but they don't specifically improve prostate health—something that Saw Palmetto can improve. But how? According to some studies, Saw Palmetto reduced prostate enlargement, improved urinary flow, reduced infections and generally improved prostate health, though it was not clear how it worked. These studies used at least twice as much Saw Palmetto compared to Better Prostate, however, suggesting it may not be as effective.
But the real problem here is chromium, which has few benefits but plenty of complications to share.
According to a study reported in Alternative and Complementary Therapies, chromium supplementation in hamsters damaged the cells' chromosomes, which are found in its DNA. This caused significant genetic damage. Because of this study—and several other controversial studies—the United States Department of Agriculture (USDA) lowered its recommended daily amount for chromium to 50 to 200 mcg. Taking Better Prostate every day easily exceeds this amount by 50 mcg. This strongly suggests it can cause complications within the first day of use, and may not be safe for daily supplementation.
Is Better Prostate Safe?
Probably not. It easily exceeds the recommended daily allowance for chromium, which is known to cause severe genetic problems. It also reportedly causes liver and kidney damage, which may lead to organ failure or death.
Grade: B
The use of Saw Palmetto is a plus—studies show it may decrease prostate enlargement and promote prostate health. But this comes at a price, namely the use of chromium. Chromium is linked to a myriad of side effects, which include organ or genetic damage, and has been linked to organ failure and death. If you want to take Better Prostate, do it with extreme caution—it may compromise the health of your kidneys or liver.