Prostate Supplements Reviewed
Super Beta Prostate Lab Report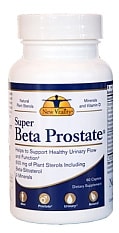 Laboratory Analysis
Product: Super Beta Prostate
Company: New Vitality
Rating: B
3.5/5 Stars

Rated 3.5/5 based on 46 customer reviews

$ 59.95 In stock

Sub Par Prostate Support Supplement. 60 Count Bottle. Claims to shrink an Enlarged Prostate. Did not Review Well
Company Site: www.newvitality.com
Super Beta Prostate Prostate Support
Super Beta Prostate Lab Report
| | | | |
| --- | --- | --- | --- |
| Analyte: | mg/g | mg/cap | mg/serving |
| Quercetin: | ND | - | - |
| Icariin: | ND | - | - |
| Total Polyphenolics: | 9.91 | 9.91 | 19.8 |
| Total Sterols: | 520 | 520 | 1,040 |
| Free Fatty Acids | 230 | 230 | 460 |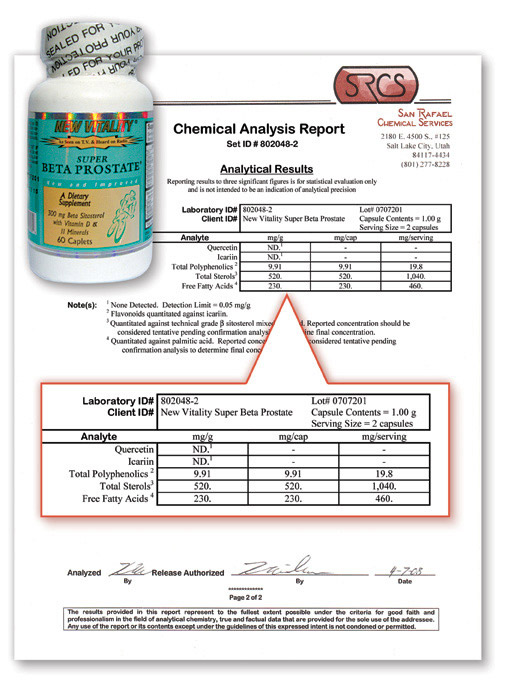 Grade B:
Super Beta Prostate Analysis:
Super Beta Prostate The heavily advertised prostate supplement from New Vitality of New York is one of the better supplements we have tested! It made it to our prestigious Top 5 supplements, finishing at number 4, because of its extremely high levels of beta-sitosterol and free fatty acids. Designed by chemist Roger Mason, Super Beta Prostate contains 1,040mg per serving of total beta-sitosterol and 46mg of free fatty acids. While these levels are both extremely high, it almost seems like overkill. However, it would have been better if these levels were lower and they included other important compounds as well. Many prostate survey sheets said Super Beta Prostate did not work for them. This is most likely attributed to the fact that not all men have the same prostate problems. And while beta sitosterol and free fatty acids are certainly vital, other compounds are also important. Still an excellent prostate supplement from a fine company.
Super Beta Prostate is available at www.superbetaprostate.com or by calling 1-800-711-2401.