Prostate Supplements Reviewed
Prostata Lab Report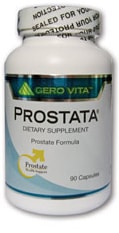 Laboratory Analysis
Product: Prostata
Company: Gero Vita
Rating: F
1/5 Stars

Rated 1/5 based on 123 customer reviews

$ 59.95 In stock

Sub Par Prostate Support Supplement. 60 Count Bottle. Claims to shrink an Enlarged Prostate. Did not Review Well
Company Site: www.gvi.com
Prostata Prostate Support
Prostata Lab Report
| | | | | |
| --- | --- | --- | --- | --- |
| Analyte: | mg/g | mg/cap | mg/serving | mg/daily dose |
| Quercetin: | - | - | - | - |
| Icariin: | - | - | - | - |
| Total Polyphenolics: | - | - | - | - |
| Total Sterols: | - | - | - | - |
| Free Fatty Acids: | - | - | - | - |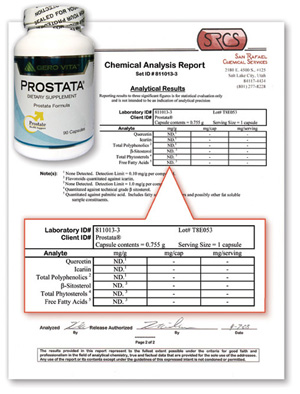 Grade F
Prostata is an abdominal failure of a prostate supplement!
Prostata Analysis:
GeroVita had sold over 4 million bottles of this prostate supplement which failed miserably in lab testing. In fact, it looks like a classic example of "powder in a bottle" with virtually zero potency! A total rip off BPH supplement! Priced under $40 a bottle, it is a complete waste of money based on the independent laboratory analysis. Many survey sheets complained these prostate supplements did nothing for them. Now we know why. Company founder and creator of this prostate supplement Almon Glen Brasswell, gained national attention a few years ago when he, along with financier Marc Rich, were pardoned by President Clinton in the final days of his presidency. Brasswell (who died last year) was a twice-convicted felon, and it looks like he is still ripping people off!
Prostata is available at www.gvi.com or by calling 1-888-382-9175.