Prostate Supplements Reviewed
Prostate Defense Lab Report

Laboratory Analysis
Product: Prostate Defense
Company: North Star Nutritionals
Rating: B
3.5/5 Stars

Rated 3.5/5 based on 261 customer reviews

$ 59.95 In stock

Sub Par Prostate Support Supplement. 60 Count Bottle. Claims to shrink an Enlarged Prostate. Did not Review Well
Company Site: www.northstarnutritionals.com
Prostate Defense Prostate Support
Prostate Defense Lab Report
| | | | | |
| --- | --- | --- | --- | --- |
| Analyte: | mg/g | mg/cap | mg/serving | mg/daily dose |
| Quercetin: | - | - | - | - |
| Icariin: | - | - | - | - |
| Total Flavonoids: | 9.36 | 4.76 | 19.0 | - |
| B-Sisterol: | 13.1 | 6.67 | 26.7 | - |
| Total Phytosterols: | 23.8 | 12.1 | 48.4 | - |
| Free Fatty Acids: | 98.1 | 49.8 | 199 | - |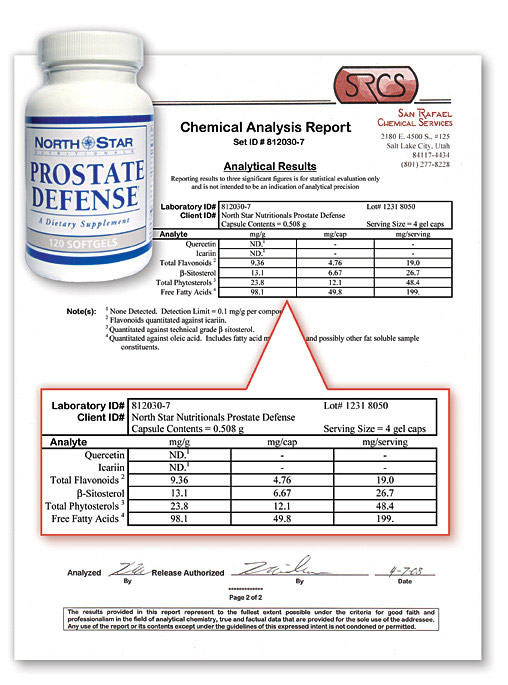 Grade B
A lack of quercetin and icariin causes this Prostate Defense to fall short.
Prostate Defense Analysis:
North Star Nutritionals of Baltimore produces this decently-designed prostate supplement. It's a "soft gel," and the suggested use is four a day. Like all intelligently designed prostate supplements, Prostate Defense contains pygeum extract yielding 13% beta-sitosterol and uses an 85% extract of saw palmetto. These top quality ingredients were evident in the nice laboratory score this prostate supplement received. While it was off the mark with quercetin and icariin, it is still a better-than-average prostate supplement. You can get a bottle of Prostate Defense direct from North Star for under $50 a bottle.
Prostate Defense is available at www.northstarnutritionals.com.