Prostate Supplements Reviewed
Solaray Pygeum & Saw Palmetto Lab Report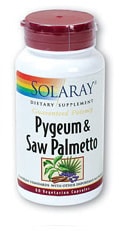 Laboratory Analysis
Product: Solaray Pygeum & Saw Palmetto
Company: Solaray
Rating: B-
3/5 Stars

Rated 3/5 based on 61 customer reviews

$ 59.95 In stock

Sub Par Prostate Support Supplement. 60 Count Bottle. Claims to shrink an Enlarged Prostate. Did not Review Well
Company Site: www.solaray.com
Solaray Pygeum & Saw Palmetto Prostate Support
| | | | | |
| --- | --- | --- | --- | --- |
| Analyte: | mg/g | mg/cap | mg/serving | mg/daily dose |
| Quercetin: | - | - | - | - |
| Icariin: | - | - | - | - |
| Total Polyphenolics: | 3.21 | 2.29 | 9.17 | - |
| Total Sterols: | - | - | - | - |
| Free Fatty Acids: | 100 | 71.5 | 286 | - |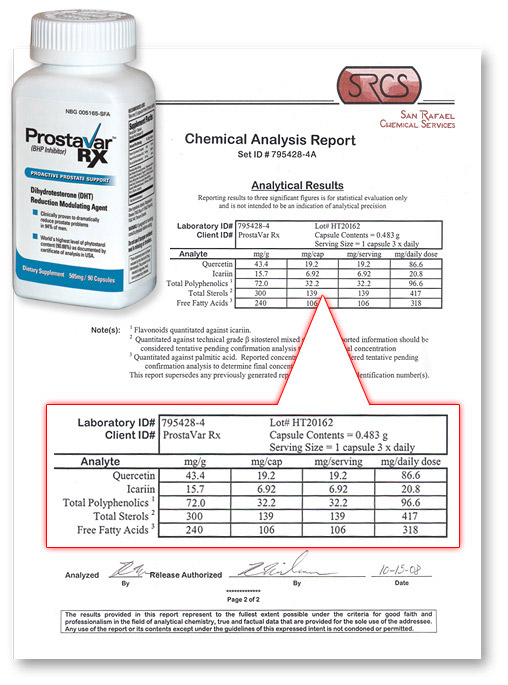 Grade B-
High levels of free fatty acids from the Saw Palmetto Berry Oil are the star of this Solaray Pygeum & Saw Palmetto.
Solaray Pygeum Analysis:
This prostate supplement gets high marks for its 286mg of free fatty acids. While this is an excellent score, the lab results indicate the ingredients is essentially one dimensional. With zero total beta sitosterol, quercetin and icariin and only 9mg total polyphenolics, the rest of the the rest of the formula needs to be beefed-up. Think: Archie Manning on the New Orleans Saints--a superstar with a lousy surrounding cast doesn't make a champion. After reviewing the results we gave it a B because of the excellent free fatty acid score.
Solaray Pygeum & Saw Palmetto is available at www.nutraceutical.com or by calling 1-800-669-8877.