Prostate Supplements Reviewed
Prosvent Lab Report
Laboratory Analysis
Product: Prosvent
Company: Prosvent, LLC
Rating: C
2.5/5 Stars

Rated 2.5/5 based on 261 customer reviews

$ 59.95 In stock

Sub Par Prostate Support Supplement. 60 Count Bottle. Claims to shrink an Enlarged Prostate. Did not Review Well
Company Site: www.prosvent.com
Prosvent Prostate Support
Prosvent Lab Report
| | | | | |
| --- | --- | --- | --- | --- |
| Analyte: | mg/g | mg/cap | mg/serving | mg/daily dose |
| Quercetin | - | - | - | - |
| Icariin | - | - | - | - |
| Total Flavonoids: | 5.51 | 3.84 | 3.84 | - |
| B Sisterol: | 4.91 | 3.42 | 3.42 | - |
| Total Phytosterols: | 9.48 | 6.61 | 6.61 | - |
| Free Fatty Acids: | 135 | 94.0 | 94.0 | - |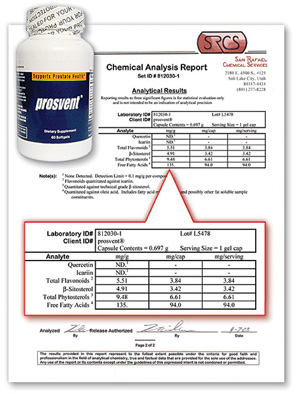 Grade: C
Prosvent is an incomplete formula lacking quercitin and icariin which keeps it from being a home run.
Prosvent Analysis:
Maybe you have seen the half-hour television infomercial for Prosvent featuring UCLA educated physician Dr. Larry May. The show and commercials do a terrific job of reviewing how important it is for men to be proactive in caring for their prostate. Dr. Larry May goes on to explain that to eliminate or at least minimize the chance of developing BPH, men should take his Prosvent supplement. Talk about biased!
Prosvent contains all the key ingredients of a good prostate supplement: saw palmetto, pygeum, Vitamin D & E, zinc, selenium and pumpkin seed oil as well as lycopene. We reviewed the laboratory tests with average scores. This supplement was nowhere near the high scores of Prostavar or some of the better prostate supplements.
However, Prosvent is good enough to help some men with mild prostate enlargement or mild BPH. The only complaint about Prosvent is that it costs $79 a bottle. The high price might be necessary because of the high cost of purchasing the TV infomercial spots bottom line is this is a decent product.
Prosvent is available at www.prosvent.com or by calling 1-800-743-9854.