Prostate Supplements Reviewed
Prostate Health Essentials Review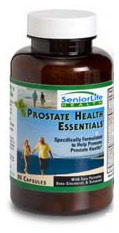 Product Review
Product: Prostate Health Essentials
Company: Prostate Health Essentials
Rating: B
3/5 Stars

Rated 3/5 based on 128 customer reviews

$ 59.95 In stock

Sub Par Prostate Support Supplement. 60 Count Bottle. Claims to shrink an Enlarged Prostate. Did not Review Well
Company Site: www.seniorhealthlife.com
Prostate Health Essentials Prostate Support
Prostate Health Essentials Basics
This all-natural supplement from Senior Life Health claims to help you combat the symptoms of benign prostatic hypertrophy (BPH), a condition that enlarges your prostate and makes it difficult to urinate. It claims to do this by shrinking your prostate, reducing the incidence of prostate infections and improving urinary function, which keeps your prostate safe from potential "baddies" that affects its function. They report men typically see results within four to six weeks of use, with some reporting a reduction in symptoms in less than two weeks of use. Ingredients: Prostate Health Essentials contains vitamin B6, zinc, copper, selenium, vitamin E, saw palmetto, beta-sitosterol, pygeum africanum, red raspberry, graviola, green tea, cat's claw, broccoli, lycopene, stinging nettle, maitake mushroom, reishi mushroom, shiitake mushroom and a proprietary blend of quercitin dihydrate, juniper berry powder, uva ursi powder, buchu leaf powder, glutamic acid, l-alanine, l-glycine, calcium d-glucarate, pumpkin seed powder, burdock root powder, cayenne pepper powder, goldenseal powder, gravel root powder marshmallow root powder and parsley leaf powder.
Does it Work?
Yes--many of its ingredients have been shown to reduce BPH symptoms. According to a 2008 study reported in Intervention Review, pygeum africanum moderately improved symptoms caused by BPH, including urinary flow and retention. According to one of the study's researchers, pygeum africanum reduced residual urine volume by 24 percent, nocturia (an increased urge to urinate during the night) by 19 percent, and increased urine emptying by 23 percent. Participants also reported an overall improvement in BPH symptoms by 50 percent.
Several studies, including a recent German study, also show that saw palmetto is very effective for the treatment of urinary-related BPH symptoms. According to the study, 73 percent of men who took saw palmetto experienced a significant decreased in nocturia, with vast improvements in overall urinary symptoms. Some studies also indicate it may shrink the prostate, although the National Institutes of Health (NIH) still says it cannot shrink the prostate. Quercitin dihydrate, zinc and beta-sitosterol have also been shown to have positive effects on the prostate, ranging from a reduction in urinary -related BPH symptoms to a reduction in prostate weakness.
Is it Safe?
Yes, but use caution if you have a soy allergy. Beta-sitosterol is derived from soy, and may cause severe allergic reactions, such as hives, throat or lip swelling and heart pain.
Grade B:
Many of Prostate Health Essentials's ingredients have been clinically proven to reduce symptoms caused by BPH, although they won't actually cure BPH itself. Still, if you're looking for a natural supplement that can relieve some of your BPH symptoms, Prostate Health Essentials may be an option for you.