Prostate Supplements Reviewed
Better Prostate Lab Report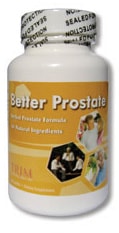 Laboratory Analysis
Product: Better Prostate
Company: Trim International
Rating: B
3/5 Stars

Rated 3/5 based on 73 customer reviews

$ 59.95 In stock

Sub Par Prostate Support Supplement. 60 Count Bottle. Claims to shrink an Enlarged Prostate. Did not Review Well
Company Site: www.triminternational.com
Better Prostate Prostate Support Review
| | | | | |
| --- | --- | --- | --- | --- |
| Analyte: | mg/g | mg/cap | mg/serving | mg/daily dose |
| Quercetin: | - | - | - | - |
| Icariin: | - | - | - | - |
| Total Flavonoids: | 26.1 | 31.5 | 63.0 | - |
| B-Sisterol: | - | - | - | - |
| Total Phytosterols: | - | - | - | - |
| Free Fatty Acids: | 23.6 | 28.5 | 56.9 | - |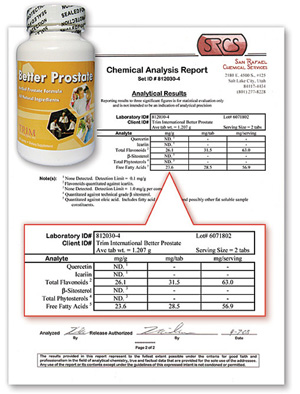 Grade C
Low levels of key ingredients make Better Prostate a loser.
Better Prostate Analysis:
This 17-ingredient product contains very low levels of important compounds. It also contains an herb called "Butchers Broom" which has no scientific studies validating it as being beneficial for prostate health. The lone bright spot in the formula is the 85% to 95% free fatty acid content of the saw palmetto used. Unfortunately, it only contains 50mg of saw palmetto. Better Prostate is manufactured by Trim International, a company more known for making women's beauty supplements than men's products. Average lab results, and a $69-a-month price tag don't add up to a winner.
Better Prostate is available at www.triminternational.com.