Prostate Supplements Reviewed
Prost 8 Lab Report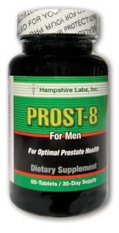 Laboratory Analysis
Product: Prost 8
Company: Hampshire Labs
Rating: F
1/5 Stars

Rated 1/5 based on 119 customer reviews

$ 59.95 In stock

Sub Par Prostate Support Supplement. 60 Count Bottle. Claims to shrink an Enlarged Prostate. Did not Review Well
Company Site: www.hampshirelabs.com
Prost 8 Prostate Support
| | | | | |
| --- | --- | --- | --- | --- |
| Analyte: | mg/g | mg/cap | mg/serving | mg/daily dose |
| Quercetin: | ND. | - | - | - |
| Icariin: | ND. | - | - | - |
| Total Polyphenolics: | 10.2 | 11.0 | 22.1 | - |
| B-Sisterol: | 22.0 | 23.7 | 47.4 | - |
| Total Phytosterols: | 46.8 | 50.4 | 101 | - |
| Free Fatty Acids: | - | - | - | - |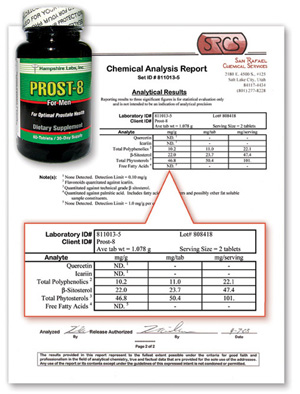 Grade F
Low levels of key ingredients make Prost-8 a loser.
Prost 8 Analysis:
This supplement is from Hampshire Labs, the Minneapolis-based company that specializes in direct mail letters that promise the moon, but delivers poor products. They also make the do-nothing prostate products Prostend and Antiiva. Prost-8 touts itself as the number one product in the world for "optimum prostate health." How does it work when it contains ZERO saw palmetto and ZERO Pygeum, and ZERO beta-sitosterol? Outlandish claims and a subpar prostate supplement is the only thing you'll find here. Laboratory analysis confirms that a purchase of Prost-8 would be a waste of your money.
Prost-8 is available at www.hampshirelabs.com or by calling 1-800-279-5517.