Prostate Supplements Reviewed
Schiff Prostate Health Lab Report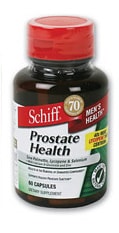 Laboratory Analysis
Product: Schiff Prostate Health
Company: Schiff Vitamins
Rating: C+
2.5/5 Stars

Rated 2.5/5 based on 84 customer reviews

$ 59.95 In stock

Sub Par Prostate Support Supplement. 60 Count Bottle. Claims to shrink an Enlarged Prostate. Did not Review Well
Company Site: www.schiffvitamins.com
Schiff Prostate Health
Schiff Prostate Health Lab Report
| | | | | |
| --- | --- | --- | --- | --- |
| Analyte: | mg/g | mg/cap | mg/serving | mg/daily dose |
| Quercetin: | - | - | - | - |
| Icariin: | - | - | - | - |
| Total Polyphenolics: | - | - | - | - |
| Total Sterols: | - | - | - | - |
| Free Fatty Acids: | 40.0 | 21.0 | 42.0 | - |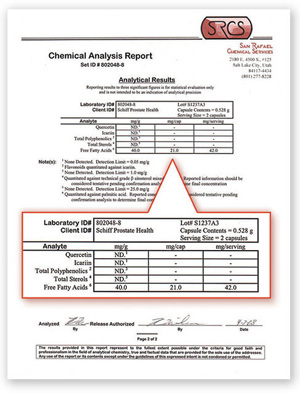 Grade C
We expected more from Schiff Prostate Health, one of the most popular herbal supplements.
Schiff Prostate Health Analysis:
We expected higher scores from one of the oldest natural supplement companies, which just entered their 70th year in business. This was not the case with this low-priced prostate supplement. While it does have a decent 42mg of free fatty acids, the rest of the ingredients is virtually void of the other active extracts that can best help your prostate. Remember, low-priced supplements can be a waste of money no matter how cheap the price, if they do not have high levels of active ingredients in them. Still the 42mg gets them a "Gentleman's C."
Prostate Health is available at www.schiffvitamins.com.