Prostate Supplements Reviewed
Prostaleaf Review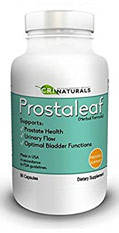 Product Review
Product: Prostaleaf
Company: Prostaleaf
Rating: Scam
0/5 Stars

Rated 0/5 based on 38 customer reviews

$ 59.95 In stock

Sub Par Prostate Support Supplement. 60 Count Bottle. Claims to shrink an Enlarged Prostate. Did not Review Well
Company Site: www.prostaleaf.com
Prostaleaf Prostate Support
Prostaleaf Review
This bogus product is promoted by two Los Angeles based scam artists - Peter Federov and Oleh Mulyar. These two scumbags operate the fake "prostate review" website MaleResearch.com where they try and trick you to buy their product Prostaleaf. It's a sneaky imitation of my work and research.
On their crooked website Maleresearch.com they have a photograph of a person identified as James Erwins who is identified as the "senior researcher and Editor" of the bogus site. The guy does not exist. It's a photo they got off the Internet.
They claim to have tested products. They haven't spent one penny on laboratory tests.
Needless to say we do not recommend this company as they are the absolutely lowest form of scum in the business. While I have spent over $200,000 - in real dollars testing prostate products at a number of top laboratories - dirtbags like these two come along and pretend they review and test products. Watch your wallet!
These two scumbags created a company to fleece consumers called CRI Naturals. That is the company that bills you for Prostaleaf is you are unlucky enough to buy it.
They wash their illegal CRI Naturals sales through a merchant account company in Colorado called Durango Merchant Services, located at 10 Town Plaza #162 Durango, CO 81301. Durango takes Peter Federov's and Oleh Mulyar fraudulent business sales and then funnels the money he has tricked from consumers with his fake website through BMO Harris Bank.
Also Oleh Mulay uses the alias Alex Mu.
The website is a massive scam. It's the very definition of consumer fraud. The website is a massive scam. It's the very definition of consumer fraud.