Prostate Supplements Reviewed
Prostafin Review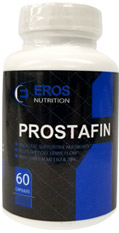 Product Review
Product: Prostafin
Company: N/A
Rating: Scam
0/5 Stars

Rated 0/5 based on 46 customer reviews

$ 59.95 In stock

Sub Par Prostate Support Supplement. 60 Count Bottle. Claims to shrink an Enlarged Prostate. Did not Review Well
Company Site: N/A
Prostafin Prostate Support
Prostafin Review
This product and the company behind it are liars operating the fake prostate review website www.societyhealth.com. Maybe you have seen this crooked website? They pretend to be a legitimate organization that purchased and properly evaluated prostate supplements. It's a complete lie. The fake review website is used to promote this horrible product.
Their lab score is an embarrassment. An example of the worst of the dietary supplement industry.
The website and Prostafin are really owned by a group of con-artists based in Los Angeles. The head honcho behind this scam is a woman named Queeny Lapena.
The lab test shows Prostafin has less than 25 mg of Beta-sitosterol in a serving -what an absolute joke. But what would you expect from people running a fraudulent website!
Don't get ripped-off by these Scamsters.