Prostate Supplements Reviewed
The Prostate Formula Lab Report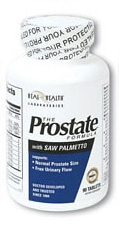 Laboratory Analysis
Product: The Prostate Formula
Company: Real Health Labs
Rating: F
1/5 Stars

Rated 2.5/5 based on 261 customer reviews

$ 59.95 In stock

Sub Par Prostate Support Supplement. 60 Count Bottle. Claims to shrink an Enlarged Prostate. Did not Review Well
Company Site: www.realhealthlabs.com
Real Health Prostate Prostate Support
Prostata Lab Report
| | | | | |
| --- | --- | --- | --- | --- |
| Analyte: | mg/g | mg/cap | mg/serving | mg/daily dose |
| Quercetin: | - | - | - | - |
| Icariin: | - | - | - | - |
| Total Polyphenolics: | - | - | - | - |
| Total Sterols: | - | - | - | - |
| Free Fatty Acids: | - | - | - | - |
Grade F
Shocking!!! This lab report reveals that you can't always trust what is claimed on a product label. The Prostate Formula is a rip-off!
The Prostate Formula Analysis:
This prostate supplement from Real Health Laboratories can be summed up in one word - SHOCKING!
We were absolutely stunned when the tests showed it did not contain one single mg of beta sitosterol, free fatty acids, polyphenolics, quercetin or icariin! A goose egg across the board! At first we thought it must be some sort of mistake on the part of the lab, but they assured us there was no mistake. So we tried another bottle from a totally different lot number purchased at a leading national drug store and it produced the same results! Needless to say, this prostate product is not good. Seems like a ripoff!
The Prostate Formula is available at www.realhealthlabs.com or by calling 1-800-565-6656.