Prostate Magic
Rating: D
Company:
Specs:
Lab Report
Site:
Prostate Magic Basics:

While most supplements are emphasizing the benefits of saw palmetto and zinc, two ingredients shown to reduce prostate abnormalities, Prostate Magic actually claims it doesn't work--in fact, they suggest it may actually worsen the health of your prostate. They also put the blame on excess DHT production, a byproduct of testosterone, which they claim causes prostate problems because it enlarges the prostate, which may increase a man's risk for further prostate issues. Their supplement supposedly slow down DHT production, reducing your risk for prostate developing problems.



Ingredients:

Prostate Magic contains achyranthes bidentata, alisma plantago, Chinese yam, cinnamon, dogwood tree, he shou wu, plantain, rehmannia glutinosa, tree peony and tuckahoe.



Does it Work?: No

none of its ingredients have ever been shown to reduce a man's prostate problem risk. Many of Prostate Magic's ingredients have been used as anti-inflammatories and diuretics in traditional Chinese medicine, but there hasn't been a single study conducted on any of its ingredients showing it treats any prostate problem. Prostate Magic also lacks several key ingredients proven to reduce prostate problems, such as saw palmetto (which they claim "doesn't work"), pygeum extract or quercitin. There's clearly no evidence any of its ingredients can reduce your risk for prostate enlargement or other prostate problems.



Is it Safe?: No.

One of Prostate Magic's ingredients, he shou wu, may cause severe liver reactions in some people. There have been several reports in the U.K. of abnormal liver function, jaundice and hepatitis after the use of he shou wu. London's health board advises consumers not to take any supplement containing this herb if you have any liver problems.



Grade: D.

Prostate Magic likes to tout itself as a miracle pill, but there isn't any proof any of its ingredients help treat any problem related to the prostate. There's also the risk of developing serious liver problems if you take this even for short term use, thanks to he shou wu.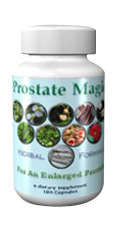 PRODUCT REVIEW
Product: Prostate Magic
Company:
Rating: D

Company Site:

Prostavar
Easily the number one prostate pill we have ever evaluated. More men seem to get better results with this power house formula than any other.


Vasotrexx
This is another fine prostate formula that achieved good marks in a number of different laboratory tests.


Prost RX
The good folks over at Hi-Tech Pharmaceuticals have done a wonderful job with this sharply designed prostate pill.


Prostate 5XL
This highly publicized prostate formula achieved extremely high marks for its total sterol levels and Free Fatty Acids in laboratory tests.


Prostanol
This is a soft gel pill that was designed by Dr. Al Sears. The formula is not as multi-dimensional as the top two.