4-Way Prostate
Rating: C
Company:
Specs:
Lab Report
Site:
4 Way Prostate Basics:

Although 4 Way Prostatebelieves urinary problems are caused by an enlarged prostate, or benign prostatic hypertrophy(BPH), they don't believe it is caused by excess DHT production. Instead, they believe blood stagnation and the accumulation of damp heat in the urinary bladders causes these symptoms. To combat this buildup, they recommend taking their supplement twice daily, which is chocked full of natural herbs, vitamins and extracts aimed to improve the environment inside the bladder.



Ingredients:

4 Way Prostate contains vitamin E, vitamin B6, zinc, selenium, organic spirulina, saw palmetto (45% standardized extract), beta-sitosterol, l-alanine/glycine/glutamin acid blend, organic barley grass juice, amber, astragalus root, baswellia serrate, myrrh gum, prunus persica seed, eleuthero root, red peony root, coix seed, rehmannia root, poria cocus herb, cornus fruit, paeonia moutan root, alisma root, wild yam root, dong quai root, cinnamon bark, phellodendron bark, vaccaria segetalis seed, achyranthes root, ginger, organic oat grass juice and bioperine.

Does it Work?: Probably not. Although it contains saw palmetto, an extract proven to treat urinary symptoms caused by BPH, 4 Way Prostate contains a standardized extract that only contain 45% of the active ingredient. This may limit its efficacy against BPH. Vitamin E, which was reported to reduce the risk for prostate issues by some health companies, has not been shown to reduce the risk for prostate problems in any recent studies. All of its other ingredients are new to the alternative health market and have not been tested for efficacy or safety.



Is it Safe?: No.

Eleuthero root, better known as Siberian ginseng, can cause insomnia or low blood pressure. Phellodendron bark can also cause stomach upset, spleen problems, vomiting or nausea. People taking blood pressure medications, who suffer from insomnia, or have a history of stomach or spleen problems should speak with a physician before using 4 Way Prostate.



Grade: C.

4 Way Prostate's ingredients aren't very effective--their effects are only minimal on prostate health, and may not reduce BPH symptoms. Some of its ingredients may also cause stomach, spleen or blood pressure problems, making it potentially dangerous for people suffering from these conditions.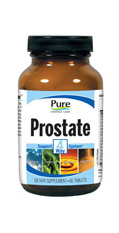 PRODUCT REVIEW
Product: 4-Way Prostate
Company:
Rating: C

Company Site:

Prostavar
Easily the number one prostate pill we have ever evaluated. More men seem to get better results with this power house formula than any other.


Vasotrexx
This is another fine prostate formula that achieved good marks in a number of different laboratory tests.


Prost RX
The good folks over at Hi-Tech Pharmaceuticals have done a wonderful job with this sharply designed prostate pill.


Prostate 5XL
This highly publicized prostate formula achieved extremely high marks for its total sterol levels and Free Fatty Acids in laboratory tests.


Prostanol
This is a soft gel pill that was designed by Dr. Al Sears. The formula is not as multi-dimensional as the top two.