Prostate Supplements Reviewed
Prostatrinex Review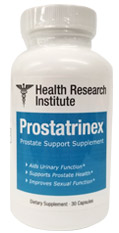 Product Review
Product: Prostatrinex
Company: N/A
Rating: Scam
0/5 Stars

Rated 0/5 based on 46 customer reviews

$ 59.95 In stock

Sub Par Prostate Support Supplement. 60 Count Bottle. Claims to shrink an Enlarged Prostate. Did not Review Well
Company Site: N/A
Prostatrinex Prostate Support
Prostatrinex Review
This product is a Super Scam run by Los Angeles a 31 year-old weasel named Iurii Korolov. He runs this brazen scam out of his tiny apartment in downtown Los Angeles.
Here is his address - this is where he creates his fake websites - he has others - and his bogus products.
900 S. Figueroa St. Apartment #2008
Los Angeles, CA 90015
Korolov operates the fake prostate review site - www.prostate-supplement-reviews.com - pretending to have evaluated prostate pills independently. It's a complete and total fraud. All he does is rate Prostatrinex number one while lying about other products. And of course hide his identity and pretend it is legitimate review websites.
The actual product Prostatrinex is joke.. Each bottle only contains 30 pills and you are supposed to take 2 pills. So each bottle is only a two-week supply! They charge $39.99 for a bottle of the crap. So $80 a month to get ripped-off by a 31-year-old conman operating a fraud off a laptop computer out of an apartment.
He tries to make Prostatrinex sound like number one rated ProstaGenix to further deceive consumers. He also says Prostatrinex is made by a non-existent company called Health Research Institute. Just another lie – Korolov operates out of his apartment and has this bogus product shipped from a company called Promotion Fulfillment Center in Camanche, Iowa.
Don't bee fooled by this conman.